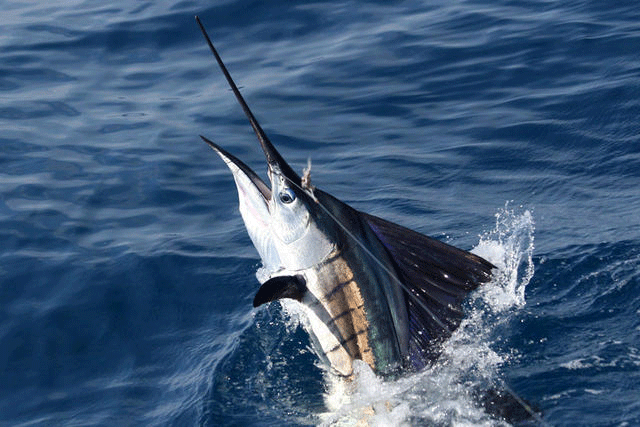 Sailfish
sailfish (known locally as 'suli suli') are by far the most numerous of the Billfish we have here and are the fish that brought Kenyan fishing to world prominence. Finicky and sometimes skittish or playful, they can make a fool of the best of anglers at times, and are very dramatic when not over powered by excessively heavy tackle. Experienced anglers will know this spectacular acrobat is more fun on light tackle or on fly (Our numerous sailfish make fly fishing a very viable option). Sailfish will jump and slither across the surface of the water in a never to be forgotten display and large "pack attacks" are reasonably common. Relatively easy to bring in when hooked (that's the tricky part) the Sailfish is a milestone in any anglers early fishing experience.
You can catch sailfish all along the Kenyan coast throughout the year but to catch large numbers you need to come in the main season. The main run of sailfish in Kenya starts in the north of Kenya from mid September and moves to feeding grounds off Malindi and Watamu in mid October through to March. Our Sail fishing is as good as almost anywhere in the world; four to six to the boat quite normal, with the best at thirty-five.
Recommended Target dates: October to December.
Target fishing area: Lamu & Malindi