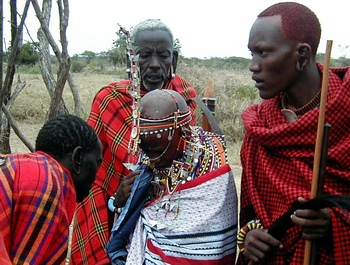 African wedding traditions
Africa, with its many nations and tribes, is very rich in different wedding traditions. An old African proverb says, "A man without a wife is like a vase without flowers."
Egyptian weddings are often arranged. At the engagement part a groom-to-be gives his bride-to-be a money known as Mahr. This money is used to buy jewelery called Shabka and furniture. The groom gives her a ring which she wears on her right hand. Before the wedding henna tattoos are applied on bride's feet and hands.
The wedding starts with the performance of Zaffa music which involves traditional bendir drums, bagpipes, horns etc. The wedding ceremony is performed in mosque or church.
At the wedding feast the happy couple sits on Kosha chairs raised on a platform. Kofta meatballs and rose water drink called Sharpat are just two delicacies served at the wedding meal. In Egypt women pinch the bride on her wedding day. It means good luck.